MARY McDONALD
Friday, September 19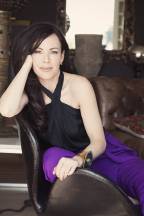 One of Bravo TV's "Million Dollar Decorators," and stars of "Property Envy," McDonald's style combines old world elegance with a modern sensibility resulting in a fearless iconic style. Her ability to combine bold patterns, Chinoiserie, and classical influences with an impeccable sense of color has established her signature style. This highly published, award-winning designer has been the recipient of the prestigious Stars of Design Award and honored as one of the top 25 designers by Veranda Magazine. Her first book "Mary McDonald Interiors: The Allure of Style" was released in 2010 to unanimous praise and is currently in its fifth printing. Not just an interior designer, Mary has quickly transitioned into a growing force in home product design. She launched her first collection of fabrics with F. Schumacher & Co. in 2013 (with a second coming in 2015) has a full line of rugs with Patterson, Flynn and Martin and an upcoming furniture line with Chaddock Home due to launch in spring 2014.
For more information, visit www.marymcdonaldinc.com.
THE RIGHT HONORABLE COUNTESS OF CARNARVON
Saturday, September 20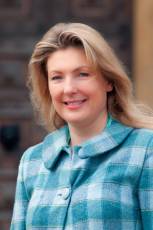 Lady Carnarvon is the eighth and current countess of Highclere Castle, the real-life setting for the worldwide hit television series "Downton Abbey. " She is married to George Herbert, eighth Earl of Carnarvon, and manages all castle affairs, from the grounds and gardens to the special events that take place at the residence. Fascinated by Highclere Castle, where the Carnarvon family has resided since 1679, Lady Carnarvon was inspired to share the history of the home. Drawing from the rich material found in the archives at Highclere, including diaries, letters and photographs, she has written two books that transport readers back to the thrilling world of the "real" Downton Abbey and its inhabitants. Her newest book, Lady Catherine, The Earl and the Real Downton Abbey, is a follow-up to the international bestseller, Lady Almina and the Real Downton Abbey, and focuses on the remarkable American heiress who came to reign at Highclere Castle in the 1920s. It was released in the U.S. on Oct. 29, 2013.
Prior to her marriage to Eighth Earl of Carnarvon, Lady Carnarvon had a colorful career as an auditor at Coopers & Lybrand and owner of the fashion label, Azur.
For more information, visit www.ladycarnarvon.com. Photo credit: © Highclere Castle 2014
CHEF BRIAN O'MALLEY
Sunday, September 21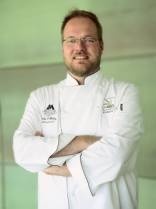 Chef Brian O'Malley is head chef-instructor at the Institute for the Culinary Arts at Metropolitan Community College where he promotes not only culinary technique but also the appreciation and use of local, sustainable cuisine.  A native Nebraskan, he graduated with distinction from the prestigious New England Culinary Institute in Montpelier, Vermont where he was introduced to the use of local, sustainable food systems integrated with fine dining operations. He has carried that philosophy to Metropolitan Community College's Institute for the Culinary Arts which operates the Sage Student Bistro working closely with the Horticulture program at MCC to serve up menus thick with fresh ingredients grown in the campus gardens, greenhouses, and aquaponic tanks. For his innovative work as an educator, in 2010, Chef O'Malley became the youngest ever inductee into the Omaha Hospitality Hall of Fame. He serves as coach and mentor for the American Culinary Federation's Student Culinary Team Nebraska, and participates on numerous local and national boards for the culinary, hospitality, and food industries. In 2009 he hosted "The Recipe Box" on NET Television. Chef O'Malley has also been recognized with the "Excellence in Journalism" award from the Omaha Press Club for his contributions to Food and Spirits Magazine. He was an active member of the steering committee and now on the Advisory Board for the Nebraska Food Cooperative, as well as an integral member of the Alternative Growers Group in Washington County.
For more information, visit www.mccneb.edu/chrm/cculinaryartsandmanagement.asp